Title: Ah-Nee Le DoDee Ve DoDee Lee
Medium: Water Color and Graphite on Paper
Size: 12" x 14" unframed
Available Framed or Unframed
© Drew Kopf 2019
Signed: Drew Kopf 2019 (lower left ) and in Hebrew Dov Bear Ben Tsvee Hairsh Ha Kohain 5779 (lower right).
Created: March 2019
Original: Original is a gift of the artist to Mary Anne and Ward of Pinehurst, NC.
Framed can look like this or as desired and will be quoted on request.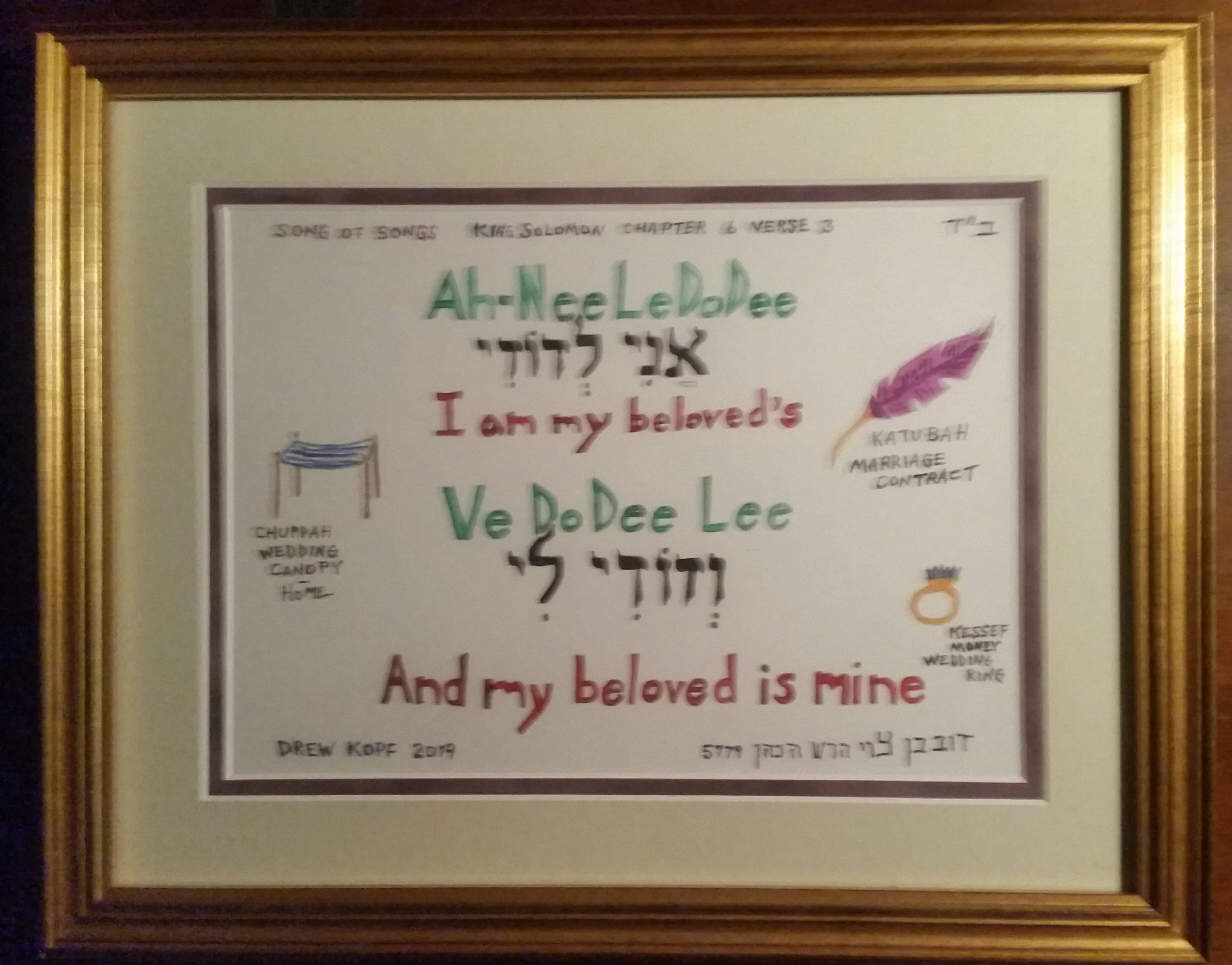 We invite you to click HERE for details concerning the traditional Jewish wedding cerimony.
The need for a visual piece that would bring this world famous verse from King Solomon's Song of Songs, (Sheer Ha Shee Reem) ִto those who might appreciate it but who do not read or speak Hebrew came to our attention and we felt that a nice way to provide such an art work would be to include in the piece itself a transliteration of the Hebrew text so that almost anyone would be able to "sound-out" the Hebrew words without much effort and, thereby, enjoy the very sounds that King Solomon himself would have entoned when he first recited or sung the work so very long ago. There has got to be a very special feeling when a loving couple realizes that the wonderful feelings that they are experiencing about and for each other were the same that King Solomon had in mind when he wrote the Song of Songs. To read about the detailed history of the Song of Songs, please click HERE.
Price per Giclee Reproduction on Water resistant Canvas or 310 Gram Hahmemule Art Paper

Size

1

2 to 3

4 to 7

8 or more

Standard Stretching

Standard Stretching

5" x 7"

$175.00

$150.00

$100.00

$70.00

custom

custom

8" x 10"

$225.00

$170.00

$135.00

$100.00

custom

custom

11" x 14"

$275.00

$225.00

$190.00

$150.00

custom

custom

12" x 16"

$325.00

$275.00

$200.00

$175.00

custom

custom

16" x 20"

$375.00

$300.00

$225.00

$200.00

custom

custom

18" x 24"

$425.00

$350.00

$275.00

$225.00

custom

custom

20" x 24"

$475.00

$375.00

$300.00

$250.00

custom

custom

20" x 30"

$525.00

$400.00

$350.00

$300.00

custom

custom

24" x 30"

$600.00

$525.00

$475.00

$400.00

custom

custom

24" x 36"

$725.00

$625.00

$575.00

$500.00

custom

custom

30" x 40"

$850.00

$750.00

$675.00

$600.00

custom

custom

32" x 48"

$900.00

$800.00

$725.00

$625.00

custom

custom

36" x 48"

$975.00

$850.00

$775.00

$675.00

custom

custom

40" x 50"

$1,350.00

$1,200.00

$975.00

$875.00

custom

custom

40" x 60"

$1,800.00

$1,500.00

$1.300.00

$1,175.00

custom

custom

Please Note:
1. Prices are exclusive of shipping and handling charges, which will be added.
2. Deliveries to NY, CT or NJ are subject to applicable Sales Tax. Please provide Resale or Tax Exempt Certificate with Purchase Order.
3. All sales are subject to the conditions delineated in the Terms of Agreement for Sale and Transfer of a Work of Art. Please print and complete a for and submit it with purchase order. Thank you.
4. Prices are for printing on canvas or on 310g archival art paper. unframed pieces. Please inquire if framing is desired. (646)998-4208
Toll-Free Phone: (800)839-2929
Toll-Free Fax: (888)329-6287